This tour takes the guests to see the best destinations and attractions in southern part of Tunisia. It includes visiting Djerba island, local attractions such as a synagogue and market, evening and overnight in Sahara Desert, visiting Ong Jamel, which is known from Star Wars, seeing waterfalls and Matmata cave homes, visiting Berber villages and many more sites.
Accommodation: 3-5* hotels plus tent in Sahara Desert.
Day 1 Arrive in Djerba
Today you will arrive to Djerba Island, 'the Island of Dreams', in Southern Tunisia and be met by your English-speaking driver at the airport. Your drive   will take you to your beach hotel to relax after a day of traveling. Dinner will be at the hotel.
Accommodation: 3*- 5* (Half-Board: Dinner and Breakfast)
Day 2 Djerba Island Tour / Douz / Sahara
Explore Djerba Island. Some of the sites you may visit are the El Ghriba synagogue (oldest synagogue in North Africa), Guellala, famous pottery town, and Houmet Souk with its market. In the afternoon you will depart for Douz, a town on the edge of the Sahara. If you have time upon your arrival and feel adventurous, you may want to consider a short flight over the Sahara Desert in a powered hang glider to see the great expanse of the dunes. For the night you have the option of a camel trek or 4X4 drive to a tented Berber camp in the Sahara where you will spend the night under the stars. Traditional Tunisian dinner at the tents.
Accommodation: tented camp or a hostel

Day 3 Tozeur
After breakfast you will depart of Tozeur. Tozeur is wonderful oasis town and its famous for its date palms (over 200,000 date palms in Tozeur). In the afternoon you will travel to Ong Jamel and the location of one of the Star Wars films. Enjoy the beauty of the surrounding dunes. Dinner will be at your hotel.
Accommodation: 3*- 5* hotel
Day 4 Chebika / Tamerza
After breakfast you will travel to the mountain oasis at Tamerza. First you will explore and then travel further on until Tamerza. Here you will see Sahara architecture at its finest and beautiful waterfalls. It is even thought to be one of the most picturesque villages in Tunisia. You will return to Tozeur and if you have time you may consider a museum visit, stroll through the medina, or relax back at your hotel. Dinner will be at your hotel.
Accommodation: 3* – 5* hotel.
Day 5 Tozeur / Chott Jerid / Matmata
After a relaxing morning you will travel over Tunisia's largest salt flats, Chott Jerid, and then on to Matmata. It is here where you can visit Troglodyte homes; homes built into the ground for protection from the elements. Dinner will be at your hotel.
Accommodation: 4* Hotel Diar El Barbar.
Hotel Diar El Barbar, Matmata
This unique hotel comprises four courtyards surrounded by mountains. Hotel has 165 standard rooms and suites out of which less than a half are troglodytes and the rest are traditional rooms. There are 2 restaurants with 200 seats each. A large conference room and an entertainment area with Berber tents offer good opportunities for arranging events or meetings at the hotel. Relaxing pool area at the yard.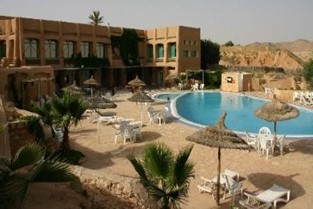 Day 6 Matmata / Chenini / Tataouine
Today you leave Matmata for the 'must-see' Berber villages of Chenini and Tataouine. Chenini is situated between two mountains and during your visit you will walk to the top ridge for fantastic views while learning about the villages' history and culture. Then you will visit Ksar Ouled Soltane which is southern Tunisia's best-preserved Ksar (ancient granary). When your desires to explore have been quenched then you will travel to the beautiful island of Djerba for some time to relax on the beach. Dinner will be at the hotel. Accommodation: 3* – 5* (Half-Board: Dinner and Breakfast).
Day 7 Djerba Island
Today you will spend the whole day at your hotel enjoying a day of rest. Relax on the pristine white sand beaches, go parasailing, or soak up the rays at the poolside while reflecting on the sights, sounds, and smells of the past 6 nights.
Accommodation: 3* – 5* (Half-Board: Dinner and Breakfast)
Day 8 Departure from Djerba
Arrival to Sousse, Hammamet, Port El Kantaoui or Tunis.